LED lighting has made some massive strides forward in the last few years. One of the main focal points has been one of the industry's key successes. Namely, affordability making the benefits of LED lighting available to more people in more places across the world.
With LED lighting's improved affordability, it is able to reach into many demographics previously thought infeasible. This means greater diversification as the technology itself improves, as does the application of these new and refined technologies.
LED Lighting Style
When previously the industry required LED lighting to improve affordability and availability, some aspects of production necessarily had to take a back seat. This included style. However, now that many of these needs are being met, some of the most exciting trends in LED lighting are seen in terms of style and design.
Despite much less cost effectiveness and a much shorter lifespan, filament light bulbs did have a certain charm when it came to setting the mood and influencing the design of many spaces. Now LED lighting is able to match environmentally friendly emissions targets, longevity and reduction in expenditure with straight-up style.
Many new LED bulbs are able to replicate this filament style, but LED design is not simply about aping the past. It's about setting the mood for the future. Bulbs like the OEO EZ LED Versa Hybrid can make industrial spaces look like they are ready to move into the future along with the rest of your business. Replacing outdated looking metal halide and high pressure sodium bulbs with something which reflects a forward thinking ethos. This isn't even to mention 70% reduction in energy costs, uplight for dark ceilings and a 50,000 hour life span.
Connectivity
LED lighting is not only diversifying in terms of the industry. It is also finding new ways to make LED lighting work for the individual. This means implementing smart technology in a way which is as responsive as it is adaptable.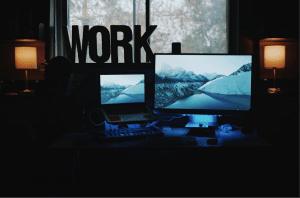 Wi-Fi and Bluetooth connection has shown LED lighting to be valuable at home, work or even for entertainment industries such as live performance venues. In the future, these connection methods will be bolstered by growing technologies such as that provided by EnOcean. These technologies use energy harvesting to make the already more ecological option of LED lighting even better for the environment.
They will do this by using alternative power sources for their LED lighting. It is in its relative infancy, but the potential positive benefits of LED lighting sourced by renewable energy are able to help with the planet's imperative needs.
New Industries
Finally, one final trend of many in LED lighting is the greater range of industries which will benefit from them. While we have already looked at how LED lighting can improve industrial spaces like steel mills as well as perhaps more modestly sized workspaces, LED lighting is looking even further.
Mobile phones and TVs are some of the industries making inroads with how they use LED lighting. However, the automobile industry, city infrastructure and so many more applications are also investing in what is the lighting of the future. These forward movements not only make LED lighting a trend to improve your business, they are also a key component of decarbonizing the global economy. This makes LED lighting advancements not just important, but necessary trends to follow.