Making the upgrade to LED lighting is 'up'-grading for a reason. They are more cost effective, energy efficient and versatile than traditional metal halide or florescent bulbs. Once you have your calculations, however, you still need to be considerate of some practical issues. Mistakes to avoid when upgrading to LED include:
Not Considering Warmth
When replacing incandescent bulbs with LEDs it is important to remember that they give off different types of light. You may buy an LED bulb which is brighter to suit certain needs, but brighter doesn't always mean better. As LEDs can be over 2000K brighter than incandescents, you may end up overdoing it and making your space feel too cool. If you own a restaurant with a comfy vibe, you may lose some of your atmosphere. Buying warm toned LED bulbs will solve your problem while still saving you money on your overheads.
Not Considering Depth
While the brightness and tone of your bulbs are important, there are other measurements you need to consider when upgrading to LED. Depending on your space, the type of bulb you need can be vital for your purposes. If you have a smaller space, then buying bulbs which are too bright can cause glare and provide an unpleasant environment.
However, when filling up large spaces, it is not simple wattage replacement you need to consider. High bay LED lighting can provide you with light bulbs which fill up both horizontal and vertical space. They're great for sporting arenas and industrial spaces as their lens angles fill up depth without using more power. Not considering space can lead to blind-spots and wastage.
Using Them in the Wrong Fixtures
We would be hard pushed to think of a light fixture which couldn't at least be adapted for LED bulb usage. However, if you don't consider the fixtures first, then you could end up wasting resources to do so. LED lighting is great for replacing lots of other fixtures, but ensure whether they are direct replacement or retrofit. OEO will tell you which is needed. The reason is that you may need to replace a ballast or you are using an enclosed fixture which will end up using too much heat and reducing its lifespan.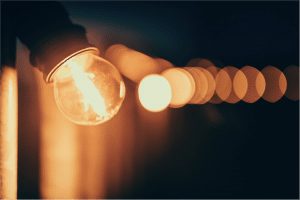 Buying too Many
With the increased luminosity and lack of lumen depreciation LED lighting boasts, you really need to consider how your upgrade will benefit you. If you have the warmth and depth taken care of, then you are likely to be able to use less bulbs for the same purpose. You may even be able to reduce the amount of fixtures you need overall. When budgeting, you can take into consideration the greater amount of light from lesser amount of bulbs and save money. You should also be aware that their longevity means you won't need to buy as many back ups for your back ups like you do with other bulbs.
Choosing the Wrong Provider
With the increased use of LED lighting, there is understandably more competition. However, not all providers and manufacturers are of the same quality. Also, they won't always treat the customer as well as they should. At OEO Energy Solutions, we have product descriptions which give you all the information you need and is presented in an intuitive interface. You can talk with us on live chat or speak directly on the phone. When you do, you will be met with informative and respectful interaction. With up to 5 year warranties and impeccable customer service, you will know that upgrading with OEO will never be a mistake.