For some, trade shows are an exciting time to show off the innovations and achievements of the previous year. For others, it is a strained time need to bring their product back into consciousness and ensure their business is on the up and up. Regardless of the reason, everybody wants to look good. Fortunately, LED lighting can do just that.
LED Lighting for the Trade Show Space
With everybody vying for attention, trade show organizers know the space they provide comes at a premium. All of the individual stalls will need their own lighting needs met, but the space needed for the stalls to congregate has more general requirements.
Exhibition halls may not be used to make anything other than facilitation of swapping business cards and setting up product meetings, but their size makes them industrial in nature. For vehicle showcases, car brands will need to bring their models into the halls and have enough space to ensure they are not overcrowded.
Cars and SUVs are generally 6′ to 8′ high, but sailing vessels for boat shows can be much higher and difficult to bring in through any doorway due to their high masts. This is why many trade shows will be held in indoor spaces which rival aircraft hangars in size. There are also pavilions for catering, conferences and anything else which might be needed to facilitate the exhibition of a particular trade being seen.
All of the above elements need to come together in high bay ceilinged rooms with plenty of light needed to navigate the various walkways and passages between exhibits. While high intensity discharge lights have been used in the past, LED lighting like the OEO 1K ULTRA is ideal for large spaces such as these.
With the equivalent of a 750 to 100 W output, the ULTRA series is the best solution for replacing metal halide HIDs. They can save up to 60% on energy costs and will not depreciate in lumens as metal halides do when the gases and halogen compounds are expended. They have a 5,000 K clarity factor which means safety and quality are never undermined, even in such large and congested spaces as trade shows.
With our direct replacement bulbs, you won't need to spend even more money on set up with electrical refitting. With 50,000 hour lifespans and a 5 year warranty, it also means they will be meeting the needs of future events for years to come.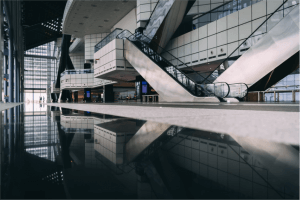 LED Lighting for the Individual Businesses
While managers of the exhibition spaces will need to be considerate of the combined lighting needs of the hall, individual businesses are likely to have just as much worry when it comes to making their booths and exhibits stand out from the rest. Lighting is one of the most valuable resources available to them.
Making your exhibit shine means having the best quality of light for your product or display. LED lighting is most beneficial because of its malleability. While motion sensors may not be needed, you will likely want to set the lights on faders or even program a light show to make an exhibit stand out. LED lighting products like the EZ LED VERSA range can save up to 80% in energy costs, but will also provide up to 100 W of quality white light which can be adapted to your needs. As any trade show exhibits have cubicle walls, the OEO EZ LED T8 strip bulb will run along the sides and ensure you are well lit from every vantage point.
Whether considering the needs of many or simply for yourself, LED lighting can help make any trade show go smoothly. With the quality of the light provide by LED it will also help keep potential customers feeling healthy and positive, even in an often oppressively busy environment such as this.